Stanchions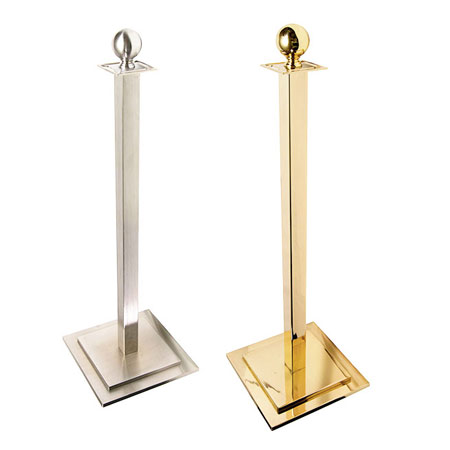 Metcor 360 offers the highest quality crowd control and stanchions in the marketplace. Choose from freestanding, wall-mounted, or permanent mounted designs. Our guidance system retractable belts will extend up to 9' long. Metcor 360 is the only manufacturer to offer clear tube bodies that house advertising messages. Belts are offered in various colors. Metcor 360 also offers designs that accept timeless traditional rope style crowd control in a variety of rope types and colors.
Stanchions/Crowd Control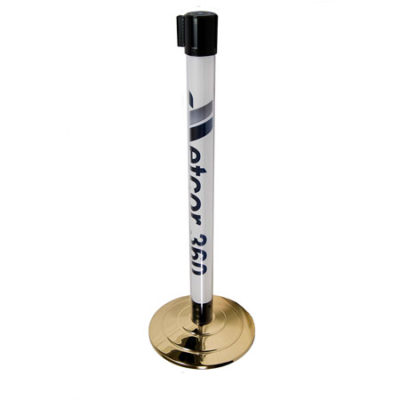 Our Clear Stanchion can come with either a round flat top for use with the traditional robe w/ hook (sold separately) or a Belt Track head (webbing is offered in black, blue, burgundy and golden brown) . The tubing is 2.75″ in diameter with a 13″ round base. The overall height is 39″. Weight is approximately 24 pounds with the Belt Track top and 25 pounds with the round flat top. These stanchions do not include advertising signage. It is sold separately or can be provided by the end user.
Description
The clear tube is a unique substrate that can withstand freezing and heat up to 110 degrees without deforming.
The tube can be cut and drilled as if it was a metal
The clear tube can be polished to bring out the shine of the tube.
You can easily remove the top, whether it's a belt track or traditional rope, and fill it with any object. You have up to 2 1/2" diameter by 30" height.
Inside the clear tube, you can simply print your message, and roll it inside of the tube. This means that you never need a sign holder above the stanchions to post your message.
The base cover is usually made of steel and can be plated, or powder coated in your choice of finish. We can, however make the base out of aluminum, stainless steel, or even solid brass.