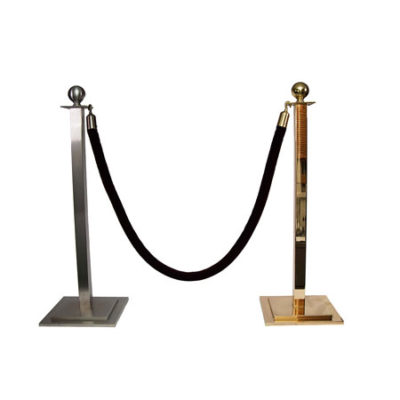 Custom Stanchion
Dimensions, height and weight of these stanchions will be limited only by your imagination. We can customize one of our current designs or we can design one that is only and uniquely yours!
Description
We make all of our stanchions to order, this option allows you to mix and match top and bases. You can also customize your finish, or mix and match those as well. Dimensions will depend on your order.
Metal Stanchions:
Made from finest quality metals
Finest and highest quality finishes
Available in steel, aluminum, stainless steel, and solid brass
Solid structure, where there is only minimum maintenance required.
Belt tracks will open to 9 feet.
The springs are the top quality where years and years of use can be expected
We can offer many belts track color. The standard colors are blue, burgundy, and black. However, other colors are available.
We can offer the traditional look OR ropes for an impressive and classy look. The standard ropes colors are blue, burgundy, and back. There many other colors available up on request.
In traditional looks, we can offer our stanchions in square or round looks. In both options, we offer them in many powder coated, or plated finishes.
Order are made to order, for example, we can offer and able to mix match to give our clients a unique look. If you like the base to be in powder coated matte black, and the post in polish chrome it is possible. Image tailoring making the looks of your crowd control.